Severe Duty Solid Skid Steer Tires are best suited on most surfaces like muddy terrain, clay, dirt, gravel, asphalt, concrete and roadway. Our Severe Duty solid tires are non-directional with extreme deep lugs and more rubber. Available in sizes 5.70x12, 10x16.5, and 12x16.5.
These are aftermarket parts saving you considerable cost in maintaining your equipment and have no association to any trademark or company name. Makes and models referenced here are for your convenience only.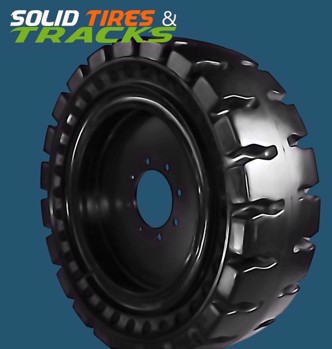 Features: 
» 100% Flat-proof tires, zero downtime
» Deeper tread gives superior traction, stability
» Higher Load carrying capacity
» Aperture design provides smoother, comfortable ride without bounce
» Saves time and money- Tires are ready to fit with rims attached
Benefits:
» Easy to Install- No specialized equipment required
» Zero Maintenance- No flats, No sidewall cuts, No deflations and No Downtime
» Severe duty-Works on all Surfaces
» Remarkably lower operating costs- Longer service life, reduced costs per hour
» Save time and money by ordering online.