Front Idler:  5671663015
Roller: 5671663001
Rear Idler: 6814882
This machine takes 2 different size idlers. You need to verify the measurements on the idler from center to center bolt hole pattern across the idler. One of the idler is 200mm and the other is 210mm.
These are aftermarket parts saving you considerable cost in maintaining your equipment and have no association to any trademark or company name. Makes and models referenced here are for your convenience only.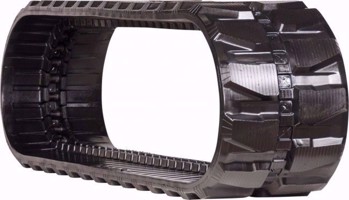 Features
» Specially designed and engineered for Excavators and Mini-Excavators
» High-tensile steel cord and heat-treated steel bars are coated for rust resistance
» Continuous spirally wound steel cord construction for flexibility
» Proprietary rubber compound for maximum resistance to abrasion, chunking, cutting & gouging
» Steel embedded links provide a smooth rolling path for the track loader's undercarriage
» Heat-resistant and deep lugs provide excellent traction, grip on multiple terrains
Benefits
» Superior, robust construction process ensures strength, flexibility of the track even in high speeds
» 100% enhanced reliability and guaranteed value for money
» Assures less downtime and lower cost-per-hour
» Lower vibrations, balanced, comfortable ride and less fatigue for the operator
» Strong and continuous rubber track maintains reliable strength over time